Mizata Point, located in Costa del Balsamo, El Salvador, is a surfer's dream destination. With its consistent surf and ideal northern winds, it's no wonder that surf enthusiasts from all over the world are drawn to this incredible spot. What really sets Mizata apart is its ability to capture groundswells more often than wind swells, making for epic surfing sessions especially during low tide.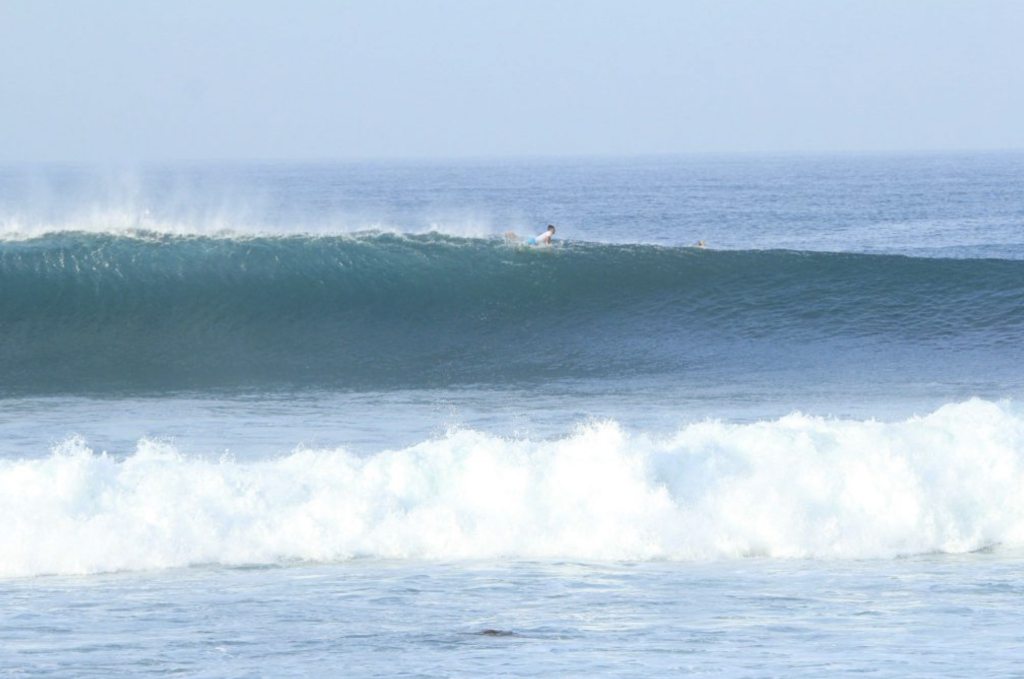 We can't help but feel stoked by the undeniable beauty and energy of Mizata, as it provides an unparalleled surfing experience. The area is also home to Antiresort, which combines five-star resort amenities with an authentic jungle camp vibe. It's an ideal spot to stay while enjoying the amazing surf breaks and embracing the adventurous spirit that this region of El Salvador has to offer.
Beyond the fantastic surf conditions, Mizata Point serves as an escape for those looking to connect with nature and immerse themselves in the essence of surfing. With a backdrop of lush jungle and the opportunity to explore local culture, it's easy to see why a trip to this awe-inspiring destination has become a must for surfers across the globe.
Mizata Point Surf Location
Getting There
Mizata Point is located on the beautiful Costa del Balsamo in El Salvador, offering consistent and world-class surf. To get there, we typically fly into El Salvador International Airport and rent a car or book a shuttle service to cover the hour and a half drive to the beach. Alternatively, one can choose to stay at Mizata Point Resort for a truly relaxing and immersive surf experience.
Ideal Conditions
Mizata Point is an exposed point break that offers consistent surf and ideal winds from the north. We've found that groundswells occur more frequently than wind swells, so be prepared for some great waves. These groundswells often provide the best surfing conditions, with the ideal swell angle coming from the south.
When it comes to tides, we've noticed that low tide offers the best surfing conditions at Mizata Point. The wave type here is a right-hand point break, perfect for surfers who prefer that direction. As a bonus, the spot is relatively uncrowded, making it an excellent choice for surfers looking for some tranquility amidst the waves.
Surf Breaks and Waves
El Barco
We love the consistency of the surf at El Barco, as it usually has great waves all year round. It's best at low and mid tide, which is perfect for beginner to advanced surfers. The break type here is a classic right-handed point break, and with the optimal swell direction coming from the south, we can always expect quality waves rolling into this break. Just be mindful of the occasional crowded days, but with enough waves for everyone, there's no need to worry too much about it.
La Punta
La Punta is another beloved right-handed point break in Mizata, and we can't get enough of it! The waves here are a bit more challenging as they're faster and more powerful, making it ideal for intermediate to advanced surfers seeking some excitement. The groundswells are more common than windswells, which means we can count on consistent surf throughout the year. Besides, the optimal winds come from the north, allowing us to enjoy clean waves most of the time.
La Playita
When we want to experience some variety, we head over to La Playita, which offers one of El Salvador's best beach breaks. This break caters to all skill levels, boasting different sections suitable for beginner to advanced surfers. The waves here can be ridden both left and right, giving us various opportunities to enjoy ourselves in the water. While the best surf conditions are usually found around low tide, it's worth checking out La Playita at any time for an enjoyable session with friends or family.
Surfing Difficulty and Crowd Levels
At Mizata Point, we find that the surfing difficulty varies, making it a great destination for surfers of different skill levels. Beginners and advanced surfers alike can enjoy the waves here. The break type is a point break, which generally offers a consistent and smooth riding experience.
The crowd at Mizata Point is generally mellow and easygoing. This means that whether you're a seasoned surfer or just starting out, you'll feel welcome and comfortable in the lineup. It's always a good idea, though, to keep an eye on surf etiquette and make sure we're respectful of fellow surfers.
In terms of the wind and wave conditions, Mizata Point isn't known for being a top destination for wind or kite surfing as the conditions are not always optimal. However, there are still days when you could get lucky and catch some great wind for these sports.
We suggest keeping an eye on the surf report and forecast to ensure you visit during the best conditions for your preferred style of surfing. Enjoy the waves at Mizata Point and be sure to make the most of your time in the water!
Best Months to Surf at Mizata Point
At Mizata Point, we can find great surf year-round. However, there are a few months that really stand out for their consistency and quality of waves. Let us break down the prime surfing season and help you plan when to catch the best waves.
In the summer months, from May to August, we often see fantastic swells that provide excellent opportunities for surfing. The black-sand beaches are less crowded during these months, and the waves tend to be more consistent. With the warm water temperature, it's the perfect time to enjoy a surf session at Mizata.
While the summer season is a favorite, we'd also recommend the stretch between January and March. These months see some solid swells and are still relatively warm. We've noticed that the conditions in the water can also be cleaner during this time of the year, making for a more enjoyable surf experience.
Even though the water temperature may drop slightly during the winter months, November and December can still offer some ideal surf sessions. You might just need to wear a wetsuit to stay warm. But, on the bright side, you'll have the advantage of fewer crowds and a more peaceful experience. So, despite the cooler water, these months shouldn't be overlooked if you're after a more tranquil surf session.
In conclusion, the best months to visit Mizata Point for surfing would be between January and March, and May to August. Alternatively, don't hesitate to try the winter months of November and December. Just remember to pack your wetsuit and enjoy the blissfully uncrowded waves.
Local Surf Schools and Guided Tours
If you're planning on visiting Mizata Point to catch some waves, we highly recommend checking out a few local surf schools and guided tours. Not only will they teach you the ropes if you're a beginner, but they'll also help you discover the best spots for catching those perfect waves.
One spot you might want to consider is the Mizata Point Resort. They offer El Salvador surf camps and have a fantastic team of instructors who can help you learn to surf or improve your skills. The resort is located right by the iconic Sunzal pointbreak, making it an ideal spot for all surfing enthusiasts.
Another option worth checking out is Mizata by Antiresort. Their Seven Day Surf Trip package is designed for legends and adventure-thirsty humans alike. This all-inclusive package includes access to perfect waves, the latest surf gear, photo documentation, and epic nourishment to keep you going from sunrise to sunset.
While at Mizata Point, make sure you don't miss:
The consistent surf and ideal winds from the north
The fantastic point break which is more suited to groundswells than wind swells
The excellent surf conditions found around low tide
So, when visiting Mizata Point, don't hesitate to join a local surf school or guided tour. They'll help you navigate the world-class waves, get you up to speed with the latest gear, and ensure you have an unforgettable surfing experience during your stay.
Facilities and Amenities at Mizata Point
We are excited to share our thoughts on the facilities and amenities at Mizata Point. This surf paradise offers everything you would expect from a top-notch surfing destination. The resort boasts ocean-view rooms, a variety of surf breaks, a four-deck beach bar, an outdoor restaurant, and even access to five-star amenities.
One of the most amazing features of Mizata Point is the choice of surf breaks. We can't believe that there are five surf breaks within walking distance! And guess what? There's even a beginner surf break just five minutes down the beach. It's great to know that the place caters to all surfing levels.
When it comes to accommodation, the resort doesn't disappoint with its comfortable executive rooms. Set amid flourishing tropical gardens, these rooms strike the perfect balance between a relaxed atmosphere and modern, upscale décor. Not only are they cozy, but they also offer stunning ocean views that remind us why we are here.
If you're feeling hungry or thirsty, the four-deck beach bar and outdoor restaurant will surely impress. We love enjoying a refreshing drink while watching the surfers catch some waves or indulging in delicious cuisine as the sun sets. And let's not forget about the spa massages, horseback riding, and sunset cliff hikes available for our extra leisurely pursuits.
One of our favorite features is the unlimited access to the Lost Surfboard quiver. For any surfer, this is a dream come true! And if you want to remember those epic rides, there's even surf photography available to capture those special moments.
In conclusion, the facilities and amenities at Mizata Point are truly something worth experiencing. Casual, yet sophisticated, this surf haven offers us everything we need, and more.
Nearby Accommodations
You've probably heard about how epic the surf is at Mizata Point, and let us tell you, it doesn't disappoint. Once you decide to book that dream surf trip, you'll need a place to stay and recharge after long days catching waves. Luckily, we've got you covered with some cool nearby accommodations to make your trip complete.
Mizata by Antiresort is a fantastic option for surfers looking for that perfect mix of adventure and relaxation. Their Seven Day Surf Trip package is designed for legends and adventure-thirsty humans who want the ultimate surfing experience. With warm waters, uncrowded spots, and a vibe reminiscent of Lower Trestles, you'll be stoked on this choice.
For a cozy and intimate stay, Mizata Point Resort is an excellent choice. Located about 90 kilometers from Comalapa International Airport, this surf lodge is situated right in front of the ocean, providing direct access to those glorious waves. The property is comprised of six separate bungalows, each with a private terrace and ocean view. Prices range from US$55 to US$150 per night, which is perfect for budget-savvy surfers.
While El Salvador might not come up first in your mental list of surf vacation spots, the incredible surf at Mizata Point proves it deserves a top spot. Trust us when we say, once you surf these warm, uncrowded waters, you'll want to keep coming back. Happy wave hunting!